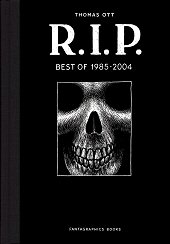 R.I.P.: Best of 1985-2004

Original title: R.I.P.: Best of 1985-2004, 2010, L'Association
Publisher: Fantagraphics (USA), 2011
Format: Hardcover, 159x254 mm, 192 pp, b&w

Collects a dozen stories originally published in three thin European style graphic albums "Tales of Error", "Greetings from Hellville" and "Dead End" during the 1980s and 1990s, plus 8 previously uncollected tales, including "The Breakdown" from Fantagraphics' Mome anthology and Ott's collaboration with French great David B., "La Fiancée du Lapin".